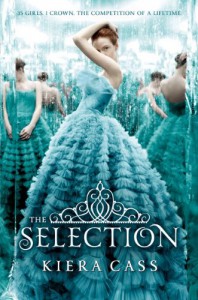 "For thirty-five girls, the Selection is the chance of a lifetime. The opportunity to escape the life laid out for them since birth. To be swept up in a world of glittering gowns and priceless jewels. To live in a palace and compete for the heart of gorgeous Prince Maxon.

But for America Singer, being Selected is a nightmare. It means turning her back on her secret love with Aspen, who is a caste below her. Leaving her home to enter a fierce competition for a crown she doesn't want. Living in a palace that is constantly threatened by violent rebel attacks.

Then America meets Prince Maxon. Gradually, she starts to question all the plans she's made for herself—and realizes that the life she's always dreamed of may not compare to a future she never imagined."

First of all, I wouldn't consider this series as a dystopian, as a few people categorize it on goodreads and such. It was more like a contemporary in a post-war setting. But, when people say that it's a lot like "The Bachellor", I
totally agree with that! It's a character-driven series were it focus mostly on the "love triangle", which is America, Maxon and Aspen.
Wherever I saw America complaining about anything I wanted to slap her in the face and say something like "get your shit together, girl!", but I couldn't dislike her in the end because of her moments with Maxon, because I really enjoyed those scenes. As of the other characters, you don't get to see that much of the other girls in the Selection, just a little bit here and there from a couple of them, and Aspen... ooooh Aspen! I don't like him at all! Sorry for all the team Aspen ones out there.
The writing is quite straight forward and it was a really quick paste, I pretty much read this book in one sitting during the Bout of Books 10.0 read-a-thon last week. I found it quite entertaining, despite it's not the most amazing book ever. So if you want to read a quick series that get you hooked all the way to the end, I totally recommend it! :)